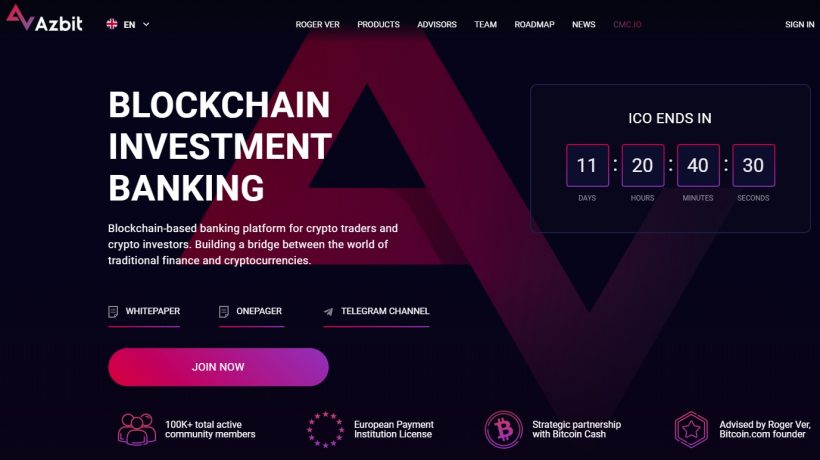 A To Z Cryptocurrency Financial Ecosystem » CoinFunda
Read Time:
3 Minute, 51 Second
The cryptocurrency market is the fastest growing economy in the world today, but it has failed to gain its success and popularity unlike the other traditional financial institutions like Forex. Cryptocurrency is a fairly new concept and over the years it has attracted many investors. Some of them, however, are a novice and new to the concept. So, they are not aware of all the nuances of the platform and fail to manage their investments properly. Moreover, the traders lack the knowledge on how to use their assets, manage them or attract potential investors to raise funds.
Azbit aims to overcome all these functional limitations of the cryptocurrency based financial market.
 
About Azbit
Azbit was found online at Azbit.com which is an online cryptocurrency trading platform with built-in tools and algorithms for trading. Azbit investment platform will provide tools to investors and traders so that they can function in the market properly. The main goal was to bring all the financial and investment services of the cryptocurrency industry under a single ecosystem.
 
Key Features of Azbit:
Cryptocurrency exchange platforms: There are two cryptocurrency exchange platforms called Azbit Pro and Azbit Global.
Azbit Pro: The Azbit Pro is the main trading platform of Azbit and it will be governed by EU laws and regulations. Operations will be done by AZS security tokens and Fiat currencies. The investment tools in this platform will be governed by EU laws.
Azbit Global: Here Azbit Tokens or AZ are used, which will offer cryptocurrency tools to operate outside the EU jurisdiction.
 
Investment Platform: An investment platform where traders and investors can have access to the following trading instruments:
SAMM (Share Allocation Management Module): Azbit supervises the portfolio of the traders thus minimizes the risk. SAMM accounts use margin trading which is especially useful for short-term trading.
RAMM (Risk Allocation Management Module): RAMM or copy trading is the most secure investment option. Here the investors can monitor the reputation, portfolio and success rate of the investors. The traders do not have any access to the investor's funds. The investors can withdraw the funds anytime they want at the current exchange rate. The investors control all the trading activities. The profits are distributed equally between the investor and the trader.
Portfolio Management: In Portfolio Management platform, the investors can withdraw their funds instantly anytime. Traders create a portfolio of their cryptocurrency assets and earn profit share on their growth. Azbit supervises the portfolios. Investors choose the most attractive portfolio and transfer funds. Traders distribute these funds on the portfolio. Investors can earn 45% of the trader's profit. No agreement is needed and it is usually helpful for long-term investments.
 
 
Banks: Azbit aims to work hand-in-hand with the traditional banking system allowing an ecosystem to be used by all. It will simplify KYC procedures. Banks will allow integration of the cryptocurrencies with the payment card system and offer online transactions. Exchange of fiat currencies will be cheaper as well.
Electronic Payment System or e-payments: The funds will be stored in crypto wallets. It will facilitate deposit and withdrawal of funds, instant exchange of fiat currencies at the current exchange rate, as well as payments for products and services.
Azbit.ID: IT is a unique identification system, which will allow users to have instant access to all the secured services of the ecosystem.
Algorithm Trading: It offers trading bots, which allows traders to create programs for autonomous trading and place a more systematic trade.
Azbit's Information Portal: A forum for open interaction between investors and traders as well as access to articles and materials for study and analysis of the market.
 
Azbit Mission
The cryptocurrency market has been facing numerous hurdles throughout the past few years. Market regulation, interference and restrictions in the investment projects have been detrimental to the financial growth of the crypto market. The market is gradually coming under strict regulations imposed by the governing authorities restricting free mobilization of funds between traders and investors. The Azbit project will legitimize the market and also build a trustworthy relationship between all the market players. The market will be transparent and will adhere to the legal requirements. The Azbit share token or AZS allow crowdfunding, which ensures liquidity in the market. The Azbit foundation is a non-profit institution, which takes part in several charity programs.
 
Azbit ICO and Token Details:
Token: AZS
Azbit ICO Price: 1 AZS=0.02 USD
Platform: Ethereum
Type: Security
Accepting: ETH, BTC, BCH, LTC, DASH
Total Number available: 4,300,000,000 (100%)
Available for sale: 50%
 
Visit ICO Website    Download Whitepaper