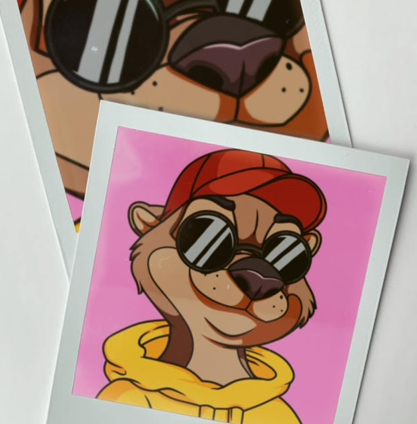 Moody Mink Society Boosts Mental Health with a New NFT Collection
Read Time:
7 Minute, 37 Second
Every year, mental illness impacts 19% of adults, 46% of teenagers and 13% of children. These people could be in your family, live next door, teach your children, work in the next cubicle, or sit in the same church pew as you.
While so many people need mental health support, only half of the people affected receive treatment thanks to the stigma associated with mental illness. Untreated mental illness can lead to higher medical costs, lower academic and work performance, fewer job opportunities, and an increased risk of suicide.
A mental illness can cause problems with thinking, behavior, energy, or emotion, making it difficult to keep up with everyday life responsibilities. The two most common mental health conditions include anxiety and mood disorders. Genetics, brain chemistry, brain anatomy, trauma, and other medical conditions, can all contribute to mental health issues.
Anxiety disorders such as post-traumatic stress disorder (PTSD), obsessive-compulsive disorder (OCD), panic disorder (panic attacks), generalized anxiety disorder, and particular phobias affect more than 18% of adults each year. Mood disorders, such as depression and bipolar depression, impact about 10% of individuals every year and are marked by difficulties in mood regulation.
Despite the fact that public perceptions of mental illness have improved in recent decades, studies show that the stigma against mental illness remains strong. The stigma against mental health conditions is partly a result of a lack of education. Since people aren't as knowledgeable about mental health disorders as they are about diseases such as cancer, diabetes, or heart disease, they tend to get judgmental. Stigma leads to fewer people seeking treatment and fewer resources available for effective treatment.
Stigma and misinformation might feel like insurmountable barriers for someone who has a mental illness. However, thanks to the advancements of technology and the increasing number of entrepreneurs creating NFTs for mental health awareness, this is changing.
The positive and negative effects of technology use on mental health are increasingly being investigated. On the plus side, technological advancements are making it easier for healthcare providers to collect wellness data and offer mental health support. Mobile technologies like smartphones, PCs, and tablets don't only give doctors and researchers new tools to track progress, get aid, and improve mental health. They also give the average person access to these options.
Excessive use of technology can lead to obesity, depression, sleep disturbances, and other issues. Increased internet use might have a negative impact on your mental health, most notably contributing to impaired social skills, increased cyberbullying, and increased isolation. In some cases, social media strengthens people's sense of belonging, connects families separated by miles and oceans, and broadens the average person's perspectives. On the other hand, some people allowed the digital world to tear them down as a result of detrimental tweets, sharing of embarrassing images, and damaging Facebook posts.
Every year, millions of people in the United States are diagnosed with a mental illness. Mental illness affects roughly 43.8 million adults in the United States or 18.5% of the population. That's approximately 1 out of every 5 adults. Furthermore, America loses approximately $193 billion every year to the cost of mental disease. Over 165,000 smartphone apps are currently available in the healthcare market, with apps for mental-health illnesses being the most popular. These apps are designed to help people with a variety of challenges ranging from depression to addiction. To put things into context, there are roughly 800 smartphone apps in the mental health sector of healthcare.
Both the average person and mental health clinicians have a lot to gain from technology-based solutions to mental health. The development of solutions has increased dramatically because of the excitement surrounding the possibilities presented by health care apps. Thousands of these apps are available in Android and iTunes app stores, with more being developed every year.
There are numerous advantages to using these apps to support mental health. These include the opportunity to find answers and support, the ability to connect to others, and the fact that you don't need to be dependent on face-to-face appointments. Today, we can use the internet to discover the answer to almost any question. Thanks to the Internet, we are also more connected than ever before. In fact, 90% of college students used a social networking site in just one week. The Internet has generated more human interaction in general. However, this isn't usually face-to-face interaction, unless it involves Skype or a similar platform.
Another reason for the popularity of technology in mental health services is that it allows specialists to deliver more mental health services remotely. Advances in digital technology help customers to deal with mental health issues. If you or a loved one is in need, you can connect with a professional and get help with a few clicks. Teleconferencing tools can also be used to assess and treat mental health issues. For this reason, if you have a mental health condition, you can get the help you need from a health care specialist even if you live in a distant region.
These care models have changed over time and have become increasingly advanced. For example, hospital ER departments can set up telepsychiatry evaluation programs. They can also create a virtual network of mental health doctors who can deliver treatment to remote and underserved places.
This technology advances every day. The sophistication of mobile apps, especially mental health apps, is increasing. For example, some apps can use your device's built-in sensors to collect information about average patterns of behavior. If the app notices a change in your behavior, it may alert a mental health professional that you need assistance before a crisis occurs. Some mental health applications help in the development of thinking and memory skills, while others simply connect you with a health care expert or counselor. Since human connection can go a long way towards helping you manage a mental health condition, this is an important aspect of these apps. Clinical studies have also shown that phone and web-based apps can help people with anxiety and depression.
NFTs are another aspect of technological advancement that has taken the world by storm. NFTs, or non-fungible tokens, are cryptographic assets on the blockchain that include unique identification codes and metadata that identify them from one another. Unlike cryptocurrencies, NFTs cannot be traded or exchanged. This is in contrast to fungible tokens, such as cryptocurrencies, which are identical to one another and can be used as a means of exchange. The unique construction of an NFT allows for a variety of applications. NFTs are a great way to digitally represent actual things like real estate and artwork, for example. NFTs can eliminate intermediaries, streamline transactions, and open up new markets. NFTs can also eliminate intermediaries and link artists with audiences or for identity management because they are based on blockchains.
NFTs have widened the appeal of blockchain beyond art, attracting gamers, financial aficionados, high-end buyers, and digital cat fans. Non-fungible tokens have the potential to transform our relationship with the digital world by introducing object-based verifiable digital scarcity. While the NFT market is still in its early stages of adoption, some businesses are already using NFTs to encourage mental health awareness in the metaverse.
Given than one in every seven adolescents aged 10 to 19 lives with a diagnosed mental disease, mental health conditions are a much more severe problem than you may think. For this reason, NFT developers are now entering the Metaverse with mental health tools to support the communities there.
The team at Moody Mink Society is also bringing mental health fitness to the Metaverse with an NFT collection that is designed to bring awareness to mental health. The team hopes to bring awareness and raise funds to help teachers across the United States learn stress and anxiety coping skills that they can, in turn, use in the classroom. The whole idea is to make sure that people know how to take care of their mental health at an early age.
Moody Mink Society also plans to build a community and the first META-tation center in the Metaverse. All token holders will have access to events by The Anxiety Dr, Dr. Lisa Cortez, a psychotherapist who has been working in the mental health field for over 20 years. She is dedicated to raising awareness and volunteers on a regular basis to help normalize therapy.
Her work has appeared in numerous publications, and she has been a guest speaker for corporations such as Microsoft.
Dr. Lisa Cortez will also bring in top mental health experts to conduct workshops on mental health and personal development for all of their members. They also plan to donate $20,000 to an organization chosen by the community to help stop the selling of fur. This is a small contribution to their charming character, The Mink.
For more information on the Moody Mink Society NFT Collection, click here.