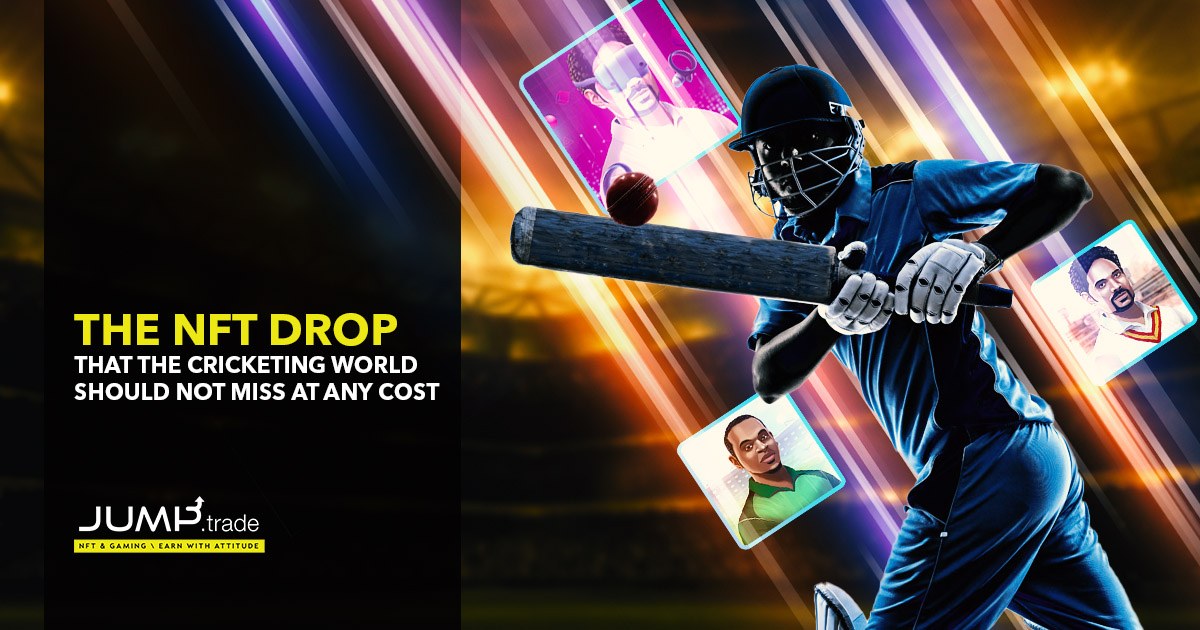 The NFT Drop that the Cricketing World Should Not Miss At Any Cost
Read Time:
4 Minute, 54 Second
It's 2022, where many things have changed, some of them even within a span of a few months. Non-fungible tokens (NFTs) are one of those things (no – they are a phenomenon) that swirled the world in a few months. From the latter part of 2021 till now, these digital tokens have been in the news for various reasons, good and bad. While the word of NFTs spread around the world, it is important not to forget the role of blockchain-based games in having NFTs as their lifeline. Some of those NFT-based games even got among the top-earning NFT ventures, and they continue to be so. 
Although many NFT games have been launched, only some of them have achieved any sort of success, and only a few have gone to the top tiers of the NFT world. There have been games based on battles, racing, and sports. As far as sporting-based NFT games are concerned, there have not been a lot of games, with Sorare (an NFT-game based on soccer) being one of the toppers in the whole blockchain gaming world. Yet, a global sport like cricket has never had a game based on NFTs so far. That vacuum might soon be filled, thanks to some cricket-savvy tech-geeks who are on their way to release the world's first NFT cricket game, with an NFT drop event preceding it. This blog explains more about the upcoming NFT drop event and the future NFT-based cricket game.
What You Should Know About the NFT Drop of Meta Cricket League?
We are talking about the "Super Loot" NFT drop event for the world's first NFT-based cricket game "Meta Cricket League." The NFT drop will be happening on April 22, 2022, on the Jump.trade NFT marketplace platform. All the products in the current discussion are created by GuardianLink, a Singapore-based NFT applications development firm. The firm is already well established in the blockchain world with its earlier products related to NFT security protocols and celebrity NFT marketplaces. Various social media platforms had gone frantic since the first official announcement of the NFT cricket game was released by the developers. The website of the Jump.trade NFT marketplace sheds more light on the upcoming Super Loot NFT drop, and this will be the first-ever event on the platform since its inception. 
What Can One Expect in the Super Loot?
During the Super Loot on April 22, there will be 25,000 NFT collectibles up for grabs. These collectibles include digital cricket player cards and digital cricket bat cards. Also, physical memorabilia signed by legendary cricket players would be gifted to lucky buyers. Each NFT collectible costs $25, and those who purchase a quantity of 5 or multiple of 5 NFTs would get a free treasure box for every 5 NFTs they buy. The treasure box(es) they get can serve as access to the treasure hunt event to be held later in the month, which promises to provide its holders with lucky presents that include various cryptocurrencies and native tokens of current-day metaverses. Anyways, irrespective of having the extra treasure box or not, the Super Loot promises to be one of the most awaited NFT drops of the year due to the background of the tokens involved. 
Getting Into the Super Loot
But, it is important to become part of the Super Loot before purchasing your first cricket-themed NFT collectibles. Yet, it is not a difficult task since it takes only a few minutes before you can sit back and wait for the NFT drop on April 22. It all starts with creating your account on the Jump.trade NFT marketplace platform by providing basic personal information such as your name, email address, and phone number. You will also need to provide a strong password to log into your account in the future securely. After this process, you would need to verify your email address according to the steps given in the verification email. 
After confirming your email, you are now a registered user on Jump.trade NFT marketplace platform, and you can freely wander around the platform. But, if you want to make your first purchase during the Super Loot NFT drop event, you will need to load in the crypto stable coin Tether/USDT in the digital wallet provided by the Jump.trade NFT marketplace platform. Note that you would need to transfer at least 100 Tether/USDT for making any purchase from the marketplace. More information on account creation, wallets, and other general topics can be found in the frequently asked questions (FAQs) section on the website of Jump.trade NFT marketplace. 
How Does It Revolutionize the Way Cricket is Currently Perceived?
As cricket is expanding its roots across the globe day by day, perceptions still exist that view cricket as a costly and lazy sport. But, because of its wide reach, the Super Loot NFT drop event could change some minds about their perception of cricket towards the "Gentleman's Sport" side. Also, with cricket aiming for a comeback in the Olympics starting from 2028, it is obvious that the future metaverse-based cricket game could provide some great insights to global audiences. Apart from all that, since the drop event aims for cricket, gaming, and NFT enthusiasts, it will play its role in catapulting the sport to greater heights.
Final Thoughts
Therefore, we can say that the Super Loot NFT drop event for the NFT cricket game would be a turning point in the cricketing, gaming, and NFT worlds as the collectibles are projected to possess some extra value than being in-game assets. Also, with time being favorable to cricket's development, the upcoming drop and the future game could pave a clear path for the sport to gain global involvement like soccer.